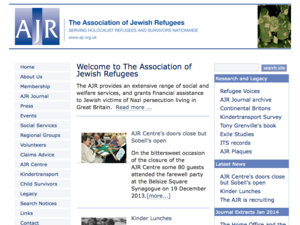 Association of Jewish Refugees
The Association of Jewish Refugees (AJR) provides social, welfare and care services to Jewish victims of Nazi persecution living in Great Britain. Founded in 1941 by Jewish refugees from central Europe, the AJR has extensive experience attending to the needs of Holocaust refugees and survivors who came to this country before, during and after the Second World War.
AJR's site serves as an online archive of research and historical papers, disseminates information about the Association, and to provide an online version of the AJR Journal, which is issued monthly.
The site is fully searchable, including the content of PDF files, and allows for multiple levels of back office security, limiting some functions to more senior members of staff. The back office also permits for the next Journal to be uploaded during the previous month, and published automatically at the appropriate time.
Visit AJR (site opens in new window)