our web portfolio
Here are just a few of the web sites we've done, and which are publicly available.
Some of our other work is available here.
College of Emergency Medicine Spring Conference 09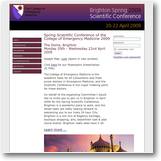 We were asked get a holding page up for this site within four days. On that fourth day, we had a fair bit of information there, and we are now building the forms for sponsorship, for submission of papers, and an event booking system.
If you need a site in a hurry, give us a call!