our web portfolio
Here are just a few of the web sites we've done, and which are publicly available.
Some of our other work is available here.
Nailsea Folk Club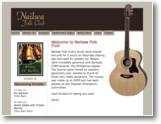 After the success of the Nailsea Festival site, the organisers approached us for help with the Folk Club site, and we were delighted to help! It is a simple Content Management System, easy to update.
visit Nailsea Folk Club