our web portfolio
Here are just a few of the web sites we've done, and which are publicly available.
Some of our other work is available here.
Jonathan Potter Ltd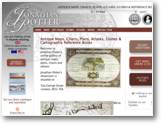 Jonathan Potter Ltd are a long established business specialising in the sale of antique maps, globes and books. Their web site was maintained in-house, and it was difficult for them to keep it up to date.
We have built them a site which can import data from their internal stock control system, and sort and display maps by geographical areas. We have also incorporated a currency switcher to assist international visitors.
Image presentation has been greatly enhanced, and a site wide search is provided. A comprehensive back office facility allows them to maintain all aspects of the site themselves.
The design is not our work.
visit Jonathan Potter Ltd