our web portfolio
Here are just a few of the web sites we've done, and which are publicly available.
Some of our other work is available here.
Association of Jewish Refugees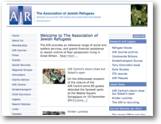 The AJR provides an extensive range of social and welfare services, and grants financial assistance to Jewish victims of Nazi persecution living in Great Britain.
We have built them a completely database driven Content Management site, featuring news, journals, events calendars, and many more features.
Ths site was developed in conjunction with Technica Solutions.