our web portfolio
Here are just a few of the web sites we've done, and which are publicly available.
Some of our other work is available here.
HOPS Labour Solutions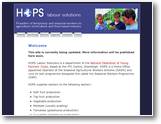 HOPS Labour Solutions, a department of the National Federation of Young Farmers' Clubs, provide temporary and seasonal worker to the UK agricultural industry. This content management site has been developed in conjunction with
Daedalus Computing Ltd
.
visit HOPS Labour Solutions