our web portfolio
Here are just a few of the web sites we've done, and which are publicly available.
Some of our other work is available here.
Nibblous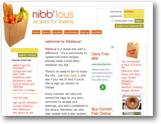 Food is a subject close to our hearts - we like to cook it and we like to eat it!
For a long time, we've wanted to write a site that allows us to put up our favourite recipes, list our cookery books, and so forth, and then we decided it would be nice to share ... and so Nibblous was born.
We have more plans for this site, when we can find the time to implement them!
If you're a bit of a foodie, why not sign up? You'd be very welcome!
visit Nibblous