our web portfolio
Here are just a few of the web sites we've done, and which are publicly available.
Some of our other work is available here.
Newswireless.Net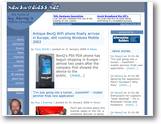 NewsWireless.Net is run by Guy Kewney, one of the UK's best known IT journalists. The site has been around for a few years, and it was time to give it a face lift, and a proper database backend.
Guy can enter his stories by use of a simple web form, and all the rest of the site is produced automatically from the database, including an RSS feed.
Thus, in theory, allowing Guy more time to write, and less time to faff about with HTML!
visit Newswireless.Net