our web portfolio
Here are just a few of the web sites we've done, and which are publicly available.
Some of our other work is available here.
Valerie King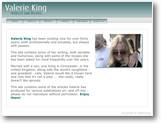 Valerie s a food writer; she requested a simple but sophisticated site, which she could update herself. We wrote her a bespoke content management system, which allows her to enter her articles, etc., herself.
When she saw what we had come up with, she was thrilled.
visit Valerie King