our web portfolio
Here are just a few of the web sites we've done, and which are publicly available.
Some of our other work is available here.
Castweb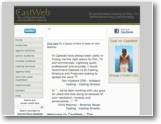 Castweb are a well respected supplier of information regarding casting for plays, advertisements, films, modelling, and associated businesses. We have produced them a content management system to run the site.
We are now working on some exciting new features, so keep checking!
visit Castweb